Sup Muses!
In May I traveled to Cancun, Mx for a beautiful & fun wedding. I spent 3 days lounging on the beach+poolside and relaxing so hard. I'll let yall in on a secret, when I'm on vacay, intentional exercising is never on the top of any list - IF I make a list at all. However, I still like to get some activity in and being at a beach makes it easy. Why?
Swimming- yes I can swim. I totally suggest you learn how to swim. There's a ton of resources for learning to swim. Quick context: Black & Brown folks have historically faced racism at pools leading to reduced access to resources to swim and to learn how to swim. Its effects are still felt and seen today.

Beach- Running on the sand. Walking on the sand. Wiping sand off me all body parts = exercise. Anything dealing with the sand is exercise.

Exercise Room- I like exploring different exercise rooms…it's a thing I do. Probably a bit unnecessary. 🤷🏽‍♀️
July 4th is here. Juneteenth has passed which means summer has arrived. Maybe you're looking for some beach workouts. Cool, I'm about to put you on. And maybe you aren't looking, but you found yourself here and want to read through. Totally cool, I appreciate that. Let's get into it folks.
My favorite exercise will always be a burpee because it's a full body workout. Add a jump. Add a push up. Add another variation to make it challenging OR do none of those and keep it low impact and less intense. It's your choice, Muses. In Mexico I did a short circuit with the below exercises and in the blazing sun. It was fun. I was sweaty. Fiancé took some pictures and here we are:
High Knees/ Broad Jumps/ Toe Touches/ Bear Crawl. This is a full body workout in four moves and because of the sand It'll be more challenging and will add an element of testing your balance. Try to get 3 sets. The reps/secs count is in the description. Hope you enjoy!
-XO JM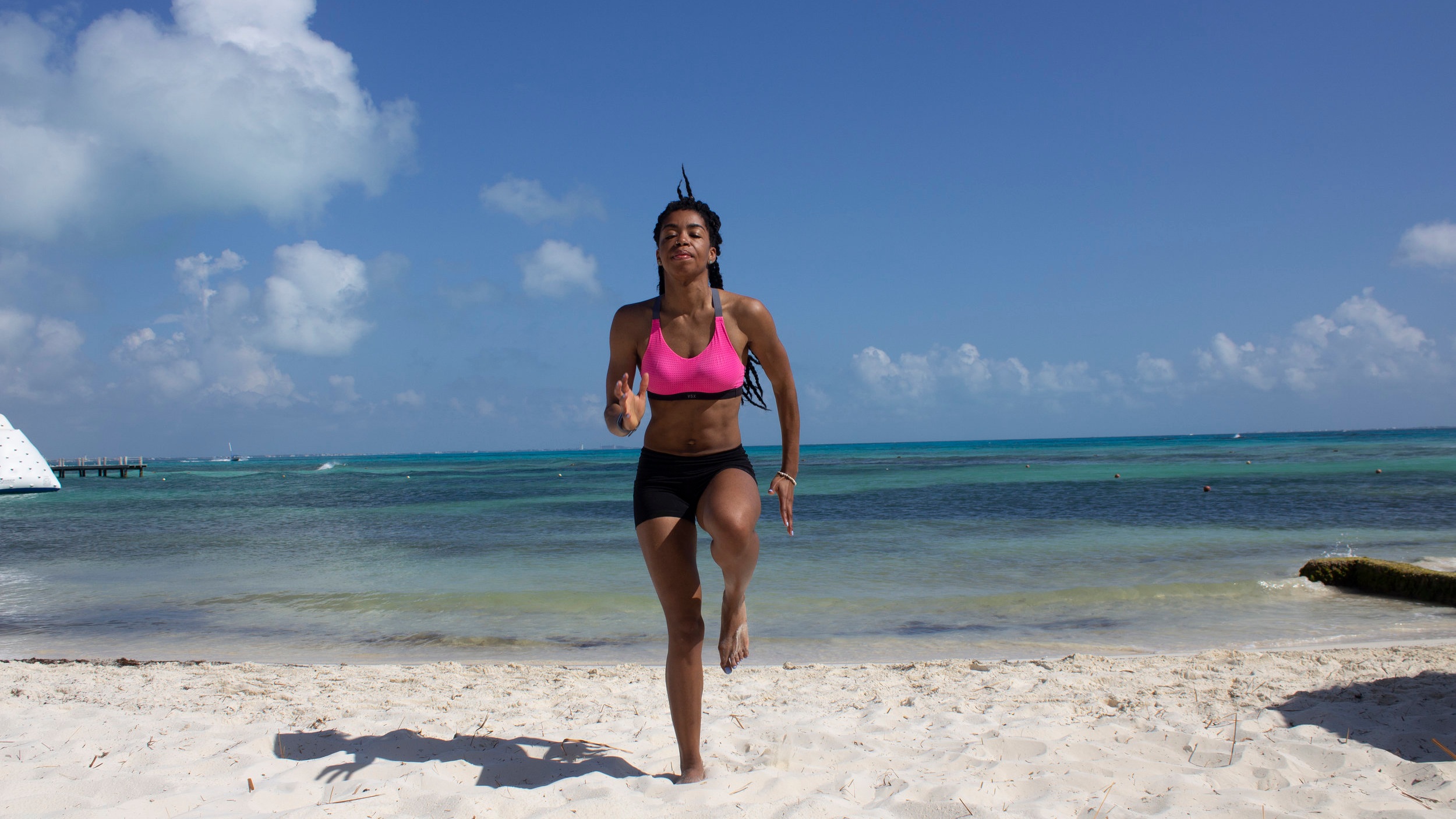 High Knees- Just like the exercise's name. Plan to jog in place with while driving your knees up and swinging your arms. 35-45 secs. Highly recommend.
Like a long jump, but without a running start. It's a lower body power exercise mainly targeting the quads. Plyo= jump training. Important to bend your knees and swing your arms. Land on both feet. 10 jumps per set. Great for building leg strength. Recommend if you know your knees.
The thing about toe touches is that you can make it high impact or low impact- step over or jump over.12-15 per leg (so a total of 24-30) Highly Recommend.
It's a hate/love thing. A great addition for a bodyweight workout. Target muscle group: core! Also activated: shoulders/chest/legs. Highly Recommend for my folks sick of crunches.
Get down in table top position. Walk your left arm and your right leg forward. Your right leg will be close to your right arm. Continue for 7 "crawls" per leg.